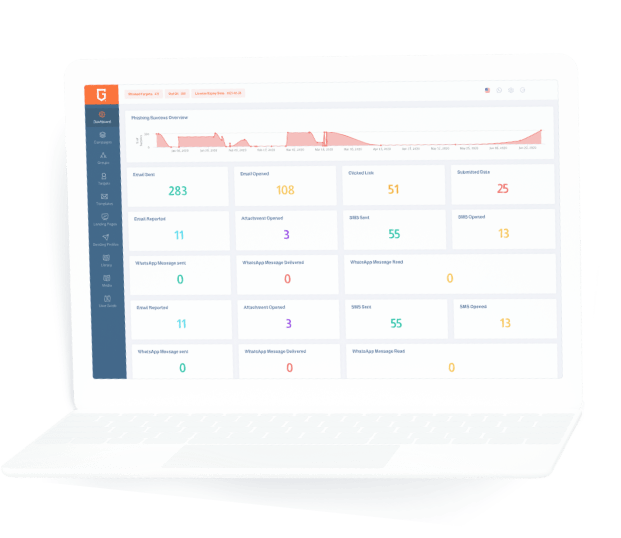 What is PhishGuard ?
PhishGuard aims to spread knowledge about one of the most fundamental security concepts and threats, and to educate users on how to respond to the growing phishing security risks.
PhishGuard also enables periodic assessment, measurement and monitoring of your employees' readiness to detect phishing scams.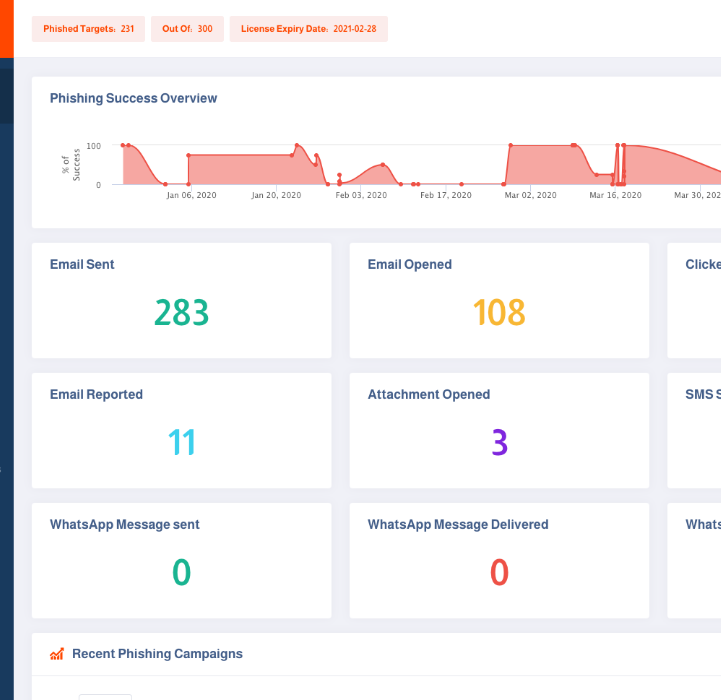 Objectives
01
Measure employees' awareness about the dangers of phishing scams
02
Educate employees to identify advanced phishing techniques
03
Train employees to serve as the first line of defence
04
Simulate various real world phishing scenarios
Features and Benefits
Email, SMS Phishing:
Ability to send phishing messages through either email, SMS .
Cloud (Inside KSA) or On-Premise:
Deployment is available in the cloud hosted inside KSA as well as an On-Premise option which can be deployed in the local network of the organization.
Targeted Spear Phishing Attacks:
Increase the complexity of scenarios by injecting target-specific information about target users into the email template.
LDAP Integration:
Seamless integration with Active Directory is available to pull the organizations users using LDAP protocol.
Customized SMTP Accounts:
Administrators can configure email server accounts to send authenticated emails.
Email, SMS, Landing Pages Library:
Our team continually updates the content library to address the latest phishing trends.
Tracking & Reports – Detailed KPIs:
Administrators Can Enable Two-Factor Authentication On Login Page To Imporove Secruity.
Bilingual Support:
Full support of Arabic and English languages for scenarios and user interface.
Scenarios for Clicked Link, Data Submission and Attachments:
Different types of scenarios to provide more insights on the user behavior which can be tracked through the dashboard.
Report Phishing Add-on:
Add-ons can be installed in the email client of all end users to report phishing emails. Add-Ons are compatible with Outlook, G Suite & Office 365.
Two-Factor Authentication:
Administrators Can Enable Two-Factor Authentication On Login Page To Imporove Secruity.
Measure the weakness of security awareness
Rise the level of awareness with real world phishing scenarios
Comply with local or international regulations
| Feature | Basic | Advanced | Premium |
| --- | --- | --- | --- |
| Email Phishing Functionality | | | |
| Real-Time Results | | | |
| Scenario customization | | | |
| Web Page Cloning | | | |
| Capturing Credentials | | | |
| Customized SMTP | | | |
| Scheduling Campaigns | | | |
| File-Based Attacks Attachment | | | |
| Spear Phishing Simulation | | | |
| Arabic Interface | | | |
| 2FA Support | | | |
| LDAP Integration | | | |
| SMiShing | | | |
| Phishing Reporter Plugins | | | |
| Reported Phishing Logs | | | |
| On-Premise Deployment | | | |
Compliance Achieved